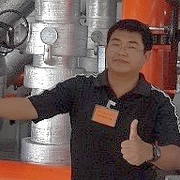 Prajak
Project manager - Prefabricated products specialist
Thermaflex is just like a big family
My name is Prajak Prakobkit. I work as a sale representative in the position of "Projects Manager" and pre-fabricated products specialist. I joined Thermaflex Asia back in 1995. I like to solve the insulation installation difficulties of my client as every problem brings some new challenge...
I have 2 sons and most of the time apart from my job, I spend time with them. I am very happy when we do family activities or when I help them improve their English language ... The whole family is well connected to my colleagues and managers as we know each other's for a long time, just like a big family. We do several activities together.
Thermaflex takes care of families and employees. That ensures the support of my family regarding my working life. I am very happy to work here due to the company openness for employees self-development.