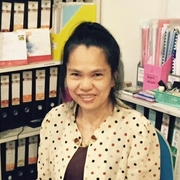 Tom
Financial and Information Manager
I fell in love with the organization!
My name is Wantana Sampaothong, nickname is Tom. I work as Financial and Information Manager. I joinedThermaflex Asia in 1993. At first I decided to work for this company because of the welfare and benefits they offer to employees. But after 2-3 years working with Thermaflex I fell in love with this organization. The management in Thailand understands well the Thai culture and that is important. I have the 2 children the eldest is daughter, she is studying at the University. My son is studying a marine course.
There are many stories and experiences to tell which happened during the time I worked here, both with joy and sorrow. Thermaflex in Thailand is about working as a team, it is like a big family.
Thermaflex Asia takes care and is attentive supporting the employees life and their families. I'm happy to be working with the company.