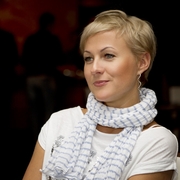 Karolina
Specjalista ds. marketingu
Równowaga i pasja
Mam na imię Karolina i od 8 lat zajmuję się marketingiem. Przez cały ten czas byłam świadkiem zmian jakie zachodziły w organizacji. Dzisiaj można powiedzieć z całą pewnością, że Thermaflex to odpowiedzialny partner w biznesie jak również bierze odpowiedzialność za środowisko w którym żyje. Dbałość o naturę stała się integralna częścią organizacji.
Moja pozycja w Thermaflex pozwoliła mi rozwinąć skrzydła i umożliwiła osobisty rozwój. Ale nie tylko to jest dla mnie ważne - W Thermaflex tworzymy grupę ludzi, która nawzajem się wspiera i inspiruje, grupę, która bardzo odpowiedzialnie podchodzi do swojej pracy. Wszyscy pracujemy tu w oparciu o model partnerski, bez względu na to, kto jakie stanowisko zajmuje.
Nie jestem osobą, która wybiera łatwiejszą drogę - ja zawsze sięgam po wyzwania. Czym wyżej postawiona poprzeczka, tym bardziej jest upragniona. I tu, w tej organizacji jest właśnie miejsce dla mnie. A zaczynałam od drobnych rzeczy… Teraz kiedy patrzę wstecz przypominam sobie, jak bardzo byłam dumna gdy właśnie przy ich realizacji odnosiłam sukcesy – małe sukcesy a jakże ogromne!!!
Moje hobby to yoga, to dzięki niej odnajduję równowagę miedzy życiem zawodowym i prywatnym. Yoga poskramia moją szaleńczą naturę, która jest ciągle niespokojna i żądna wszystkiego co nowe. Prywatnie, jestem mamą nastoletniej Alicji i szczęśliwą mężatką. Razem tworzymy fantastyczne trio, uzupełniając i ucząc się od siebie nawzajem.