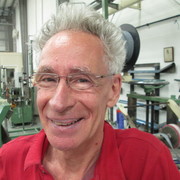 Joop
Machine Operator
Ambassador
My name is Joop. All employees in Waalwijk know who I am, which is not surprising because I've worked at Thermaflex since 1980. I am one of the employees of the first hour and I have seen Thermaflex grow from a small company that was primarily focused on the Dutch market, into an international company with production- and sales facilities throughout the world.
As Machine Operator, for many years now I am in charge of my own production line. There is plenty of action every day, including testing of new sheet materials and further improvement of the process. When 'my' production line is inactive I help out my colleagues at other production lines.
Health and vitality are very important to me; I keep fit by moving a lot. Every day I bike to work and I run on weekends. Through self-study (mainly Internet) I have now become an expert in the field of healthy food. I try to raise awareness in my colleagues about the impact of eating healthy on their overall condition. Because a healthy production process starts with an healthy operator.