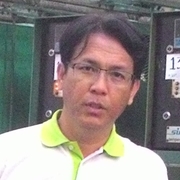 Phot
Production Manager
My life is happy!
My name is Noppaphop Suwannapoom but my friends call me "Phot". I work as a production manager since I started with Thermaflex Asia in November 2009. Before I joined the team, I was working in the automotive part industry and household appliances. Initially I had to learn a lot about the production of foam which Thermaflex Asia gives opportunities for all staffs to participate in all development areas.
Something which makes me happy is a smooth production process without mistakes. However, when problems occur, I'm ready to solve them efficiently.
My colleagues are always willing to help each others when problems occur. Thermaflex is a lean organization, from products, to manufacturing processes and deeply concerned about the environment. I believe that the mission and goal of Thermaflex is real and sustainable. My life is happy, I have a good job, good family, good friends so I'm happy to be a part of Thermaflex.