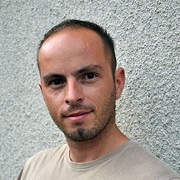 Lukasz
Sales Consultant
A recipe for the safe future"
I am Łukasz and I have been in charge of sales in Thermaflex for 7 years. Initially, I was connected with Customer Service Department but currently I am a part of the Engineering department.
I perceive Thermaflex as my home where a working atmosphere is wonderful. This is a perfect place for those who want to participate actively in improving the quality of our environment. Thermaflex is a powerful company with vast experience in insulation and modern solutions, which enables self-development for every employee. In short, Thermaflex is a recipe for the safe future.
What is holding me here? A great team and widely understood possibilities of development offered by the company. Both a vision and a mission responding perfectly to my daily life, based on saving. A significant aspect of work is achievement. As far as my position is concerned, each satisfied customer is a success. It is connected with the quality of our products and services. If I were to focus on my greatest achievement, I would choose an order for the first biogas plant in Poland, with the use of Flexalen system. For the rest, I'm interested in film and music. In my spare time, I play football and support Formula 1 drivers.