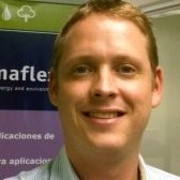 Dieter
Team leader region LATAM
Connecting with people
Working for Thermaflex is challenging and exciting. Thermaflex is a dynamic, family owned, company with great ambitions with its headquarters in the Netherlands but active in many parts of the world. As a company that focusses on thermal distribution, we are per definition contributing to the environment through energy savings. But Thermaflex doesn´t stop there and is thinking about how to incorporate the circular economy into its business model, making us future proof and helping the planet to also become future proof. For the generations to come, and since I became a dad, I am much more conscious on that.

To work in a different country and culture, act within and between many different cultures, has made the last 5 years I´ve been working with Thermaflex an interesting journey, and something that also is aligned with one of my interests: Cooking and knowing the world, when possible in Bike. Just remember, I am Dutch, and definitely we are in a bike mood.

The level of responsibility and at the same time room for initiative that are characteristic of the horizontal structure within Thermaflex, created the circumstances to develop myself both professionally and personally. I´m grateful to be part of the LATAM team that works hard and passionately every day to reach the goals we´ve set out for ourselves.