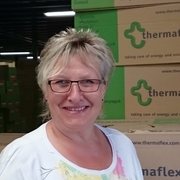 Marion
Assortment Planning
Technical and social innovation
My name is Marion Säuberlich, I am 58 years old and work with Thermaflex Central Europa since 1994. At that time of huge change in Eastern Europe I took my chance to work for a newly established Dutch based company named Thermaflex.

They build a new office with modern labour conditions and sold new products. I got the chance to work as management assistant for a small management team, worked with new computers and computerprograms, recruited new employees. I organised and coordinated everything that was needed for the growing company. As an active and adventurous woman, who drives a motorbike in my sparetime, this expanding business situation suited me well.

Thermaflex still enables me to fulfill my full potential. Nowadays Thermaflex Central Europe is a much bigger company in which I support Purchasing, Ordermanagement and Technical Service. All these years I had fun learning new competences and skills and like to continue learning and working for Thermaflex next ten years.