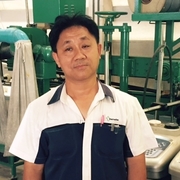 Paiboon
Production Teamleader
26 years I enjoy working for Thermaflex!
My name is Paiboon Napen. I started working at Thermaflex Asia in 1989. I joined initially in the position of packer but after 10 years, I have been promoted to the position Production Teamleader where I still work now
Previously, I did not have much knowledge of the foam insulation. I started to study and learn about foam insulation for the first time here. I am happy to work with Thermaflex Asia. We have good welfare and just like a big family we do activities together. Each and all of us are friendly colleagues, we always help each other.
I have 2 daughters. My eldest daughter will graduate from university next year. My younger daughter is in Mathayom 3. Another thing that I am proud of is that I am the employee with the longest service in Thermaflex Asia. I thank Thermaflex for enabling me to live a good and happy life.