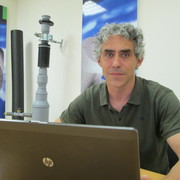 Yarko
Group ICT Expert
Leading IT
My name is Yarko Picavet. I'm the international ICT Expert. Why Thermaflex? I wasn't striving for a typical IT consultant job after my study "Business informatics", my goal was to have a much broader scope. That is exactly how it works at Thermaflex, plenty of room for new ideas and creativity!

So I started my journey within the company 16 years ago. From system manager in the Netherlands – switches and cables! - towards all-round international expert in the field of ICT. This international role suits me very well. I was born in Peru, I speak different foreign languages and like travelling a lot. I want to learn and understand different local cultures, customs and traditions during my business travels in order to better understand my international colleagues.

At home I keep connected to my ICT background, I like domotics, home automation! My family is not always happy with this as they sometimes get confused on how to activate the lights, heating or TV. As an ICT expert learning never stops, no time to lay back, I always have to keep track of new developments and of course new gadgets.