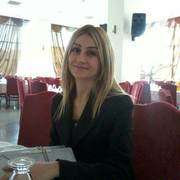 Zümrüt
Sales support
A better future!
Hello My Name is Zümrüt Cengiz. I have been working as a Sales Support for 12 years and I am proud to be part of the team in Turkey. I have supported several different departments like purchasing and human resources. I believe different experiences have great contributions to my personal and professional life.

What I like most about this company is I have no second thoughts about sharing my point of view about anything. I grew up in a family that believes in a life that has to be "open and honest" and Thermaflex has the same values which is very hard to find in professional life. I am happy to have this oppourtunity.

I was born in Sakarya and lived all my life here, Thermaflex has invested in my home town to provide a better future for all of us. As a part of the Thermaflex family, I look at our future hopefully and believe that we have so many more good things to contribute !