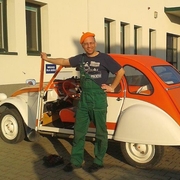 Rafal
Production Manager
Technique is my passion!
I'm Rafał and I've been involved in production management for 8 years. For me, Thermaflex brings together people who want to introduce innovative solutions and respect the dialogues between people – everyone has an opportunity to contribute. There aren't any communication barriers and we can talk to each other, regardless of ones position in the company.
For me, Thermaflex is a place where my interests and predispositions may be used. I share my technical knowledge, management experience and, at the same time, I can improve my skills in various fields. The introduction of improvements which make our work more effective satisfies me the most.
My hobbies have been always connected with technique. As a child I used to repair different things, such as my motorcycle. My latest purchase is an antique car Citroen 2CV from 1979, which I renovated. Besides a garage, I spend free time in my garden. I'm interested in architecture, non-fiction historical and travel books. I also enjoy mountain biking.