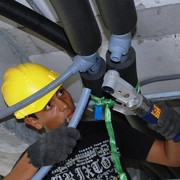 German
Account manager
Inspired by Thermaflex
I got to know Thermaflex when I was working as a technician in one of the first projects they realized in Panama and I was impressed by the new technologies they brought and the service they provided in terms of trainings and technical support. When later I learned they were looking for a technical support guy, I applied for the job and they hired me. Now being with Thermaflex for four years, I can look back at an interesting journey where I have been able to develop myself technically but also commercially and as a person, working with many different stakeholders on a daily basis.

And not only in Panama but in many other countries in the region since within the position the regional responsible for Project Realization that I hold today, I´ve had the chance to get in touch with many other cultures, also through colleagues from other parts of the world.

The dynamic culture of Thermaflex, characterized by a flat structure, requests quite some responsibility and own initiative but when you fit in this type of environment (which is not typical for Latin America), there is a great opportunity to learn and grow.